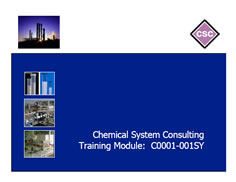 Chemical System Consulting (CSC) provides dangerous goods training for your staff in the requirements for storage, handling and transporting of Dangerous Goods and hazardous substances.
We offer two courses to assist organisations to meet their obligations to manage the risks associated with Dangerous Goods and Hazardous Substances.
"Chemical Safety Training Services" provides participants the knowledge necessary for the safe storage and handling of dangerous goods.
"Transporation Training" provides consigners, packers, loaders and receivers with the knowledge to properly fulfill their obligations in the supply chain of dangerous goods.
Our courses have been developed and refined over many years to develop templates that are then tailored to suit each organisations requirements.
Both courses focus on practical safe work practices using examples from the workplace, knowledge and case studies. This ensures a cost effective training package while ensuring relevance to your site is maintained.
Attendees all receive a "Certificate of Completion" that can be used by employers to assist in fulfilling their OH&S obligations.
For further information please follow the links below for each course.
View our Storage and Handling Course Flyer "Chemical Safety Training Services"
View our Transport Industry Course Flyer "Transportation Training Services"